Business in Action Study Set 2
Business
Quiz 8 :


Organization and Teamwork
Looking for
Introduction To Business Homework Help?
The company-C is one of the largest producers of cement with more than 44,000 employees and presence in 50 countries. The company has well established practices and culture. The company developed software called "Shift." Shift is a comprehensive online platform to facilitate smoother communication, collaboration and sharing of ideas among employees. Big companies face difficulties in implementing a system like shift. These difficulties arise due to following reasons: 1. Well-developed Practices : Big companies are known for having well developed practices and procedures. It becomes very difficult to change these well-developed practices both for companies as well as employees. For example, changing mode of communication requires implementation throughout company, which is a lengthy process and takes time and resources. 2. Resistance from employees : Employees often resist to new technologies and systems. This resistance can be attributed to the following: • Fear of technology, • Ingrained behavior, • Familiarity and habit of old systems, • Resistance to change, • Fear of job loss. This resistance creates barriers for new technologies make it difficult for an organization in implementation.
Q02
Q02
Q02
Discovering Career Opportunities Management jobs require a range of skills and experience, and, not surprisingly, the demands increase with the scope and scale of the opportunity. Use a website such as Indeed or Simply Hired to find three supervisor or management jobs in diff erent companies or industries. Study the listed qualif ications, then choose which of the three jobs is the most appealing to you. Compare the requirements of this job with your current qualif ications and outline a plan (additional education or stepping-stone positions) you could purse to develop the skills and experience to land your chosen job. Improving Your Tech Insights: Mobile Collaboration Mobile devices gives companies a new add another set of options for team projects and other collaborative efforts, particularly when used with cloud computing. Mobility lets workers participate in online brainstorming sessions, seminars, and other formal or informal events from wherever they happen to be at the time. This flexibility can be particularly helpful during the review and production stages of major projects, when deadlines are looming and decisions and revisions need to be made quickly. Find an example of a company that is using mobile devices for team collaboration. In an email to your instructor, identify at least two business benefits that this mobile solution provides.
Unlocked
Essay
Management jobs require different skills in different industries. A person can develop certain skills required for specific jobs and achieve his / her goals. Various jobs have various requirements depending on the nature of work. A same designation can have different work requirements in different industries. Job requirements in various industries for the post of supervisor are listed below: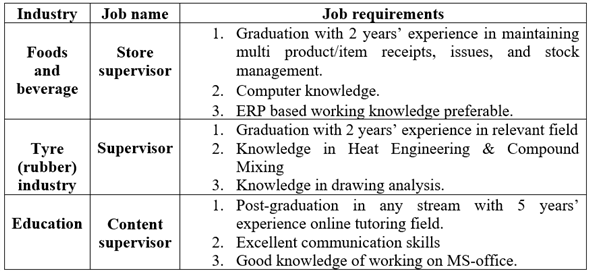 Consider a person X having a bachelor's degree in business administration with specialization in operations management with 1.5 years' experience as a salesman in a store. The best aligned job to this qualification from the above-mentioned jobs will be of store supervisor. The person already possesses the required qualification for the job. However, there is a lack of experience for the same. One cannot gain experience without working as a store manager but he can develop rest of the desired skill set by getting himself enrolled in any short-term course for ERP. Further, he can visit the store and request the authorities to appoint him on a temporary basis. Further, as he gets a complete knowledge of ERP he can be appointed as permanent employee. Also, till the time he completes his training on ERP, he can have an idea of the nature of the job by help of which he can decide to stay or leave the job. This will create a win-win condition both the store authorities and the person X as he will be prepared for the job ultimately and the store will get the position filled.
The company-C is one of the largest producers of cement with more than 44,000 employees and presence in 50 countries. The company has well established practices and culture. The company developed software called "Shift." Shift is a comprehensive online platform to facilitate smoother communication, collaboration and sharing of ideas among employees. The company should not open the Shift to business partners and suppliers. Opening the Shift to customers and partners can result in availability of critical information to business partners. It can also result in damage of the brand image if some information, sensitive for consumers, leaks into market. Additionally, business partners can use the critical information available, such as intellectual property information, on shift to develop their own products and capabilities. For example, Allowing customers and suppliers to join critical discussions such as possibility of cracks in a particular type of cement can lead to loss of brand value and image. If the company chooses to open shift up for customers, it should do it by separating the sections for discussion for employees, business partners and customers. This will facilitate smoother communication between the company, customers and business partners. This will also separate the area of the information accessible to customers and business partners.
Q14
Q14
Q14
Ethical Considerations. A company executive accidentally emailed you a confidential spreadsheet with the salaries of all the employees in the company. You took only a quick peek before deleting it, but you looked long enough to discover that other managers at your level are earning anywhere from 10 to 40 percent more than you, even though you've been at the company longer than any of them. Based on this discovery, you believe you deserve consideration for a raise. How will you handle the situation ?
Unlocked
Essay
Q15
Q15
Q15
You are the leader of a cross-functional work team whose goal is to find ways of lowering production costs. Your team of eight employees has become mired in the storming stage. The team members disagree on how to approach the task, and they are starting to splinter into factions, each pursuing its own goals. What can you do to help the team move forward?
Unlocked
Essay
Q16
Q16
Q16
You've recently accepted a job as the U.S. sales manager for a German manufacturing company. One of your first assignments is serving on a virtual problem-solving team with colleagues from Germany, France, Japan, and South Korea. Budgets are tight, so you won't have the opportunity to meet with your teammates in person to get to know one another. What steps can you take to help the team develop into a cohesive and efficient unit?
Unlocked
Essay
Q17
Q17
Q17
Concept Integration. One of your competitors has approached you with a merger proposal. The economies of scale would be terrific. So are the growth possibilities. There's just one issue to be resolved. Your competitor is organized under a flat structure and uses lots of cross functional teams. Your company is organized under a traditional tall structure that is departmentalized by function. Using your knowledge about culture clash (see page 112), what are the likely issues you will encounter if these two organizations are merged?
Unlocked
Essay
Q18
Q18
Q18
Concept Integration. Chapter 7 discussed several styles of leadership: autocratic, democratic, and laissez-faire. Using your knowledge about the differences in these leadership styles, which style would you expect to find under the following organization structures: (a) tall organization with departmentalization by function, (b) tall organization with departmentalization by matrix, (c) flat organization, and (d) self-directed teams?
Unlocked
Essay
Q23
Q23
Q23
Review the "Loss of Meaning and Connection" bullet point on page 191 in the discussion of the potential challenges of unstructured organizations. If you were planning to launch an unstructured organization, what steps could you take to help ensure that any independent contractors you hire on a project- by-project basis will have the same pride in their work that a dedicated, full-time employee would have?
Unlocked
Essay