Cases in Cost Management
Business
Quiz 25 :


Reichard Machinen
Looking for
Management Homework Help?
The variance analysis can be described: Variance analysis: It is the cost analysis and basically depicts the variance in the standard costs and the actual costs. The variance analysis of this company can be seen as below:

In the above spreadsheet F-Favorable U-Unfavorable The price variance: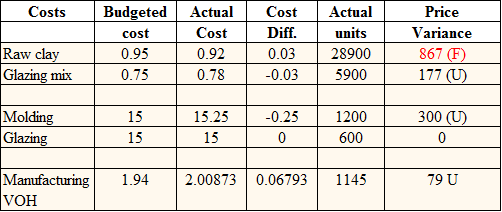 The efficiency variance:

The following are the conclusions regarding the performance for the month: • In the quest for increasing the profits and decreasing the cost, Pete has used relatively used cheaper brand of the raw material which has resulted in the low output. • Though there has been favorable variance in the price of $867 in the cost of raw clay material, it lead to the below unfavorable variances of efficiency: Glazing mix material-$131(U) Direct labor (Glazing)-$413(U) Direct labor (Molding)-$825(U) Raw clay material-$261(U)
The following are the suggestions that Pete should take into consideration : • Person P should have taken his chief potter into confidence and the intentions he had for the procurement of the relatively cheaper raw material. • Person P needs to have clear focus on the objectives whether to increase the sales by compromising the quality cost or maintain the quality.