Labor Economics Study Set 5
Business
Quiz 5 :


Compensating Wage Differentials
Looking for
Economics Homework Help?
Q01
Q01
Q01
Politicians who support the green movement often argue that it is profitable for firms to pursue a strategy that is "environmentally friendly" (for example, by building factories that do not pollute and are not noisy) because workers will be willing to work in environmentally friendly factories at a lower wage rate. Evaluate the validity of this claim.
Unlocked
Essay
This particular claim supporting the green movement can be well understood by using the concept of compensating differential. From our basic understanding of compensating differential, it is understood that in a two-commodity framework - wage is considered a good commodity; furthermore, risk of job injury is considered a bad commodity. From that perspective any worker would like to work for risky jobs only if he is provided a wage rate that is higher than her reservation price, otherwise she/he would like to work for a safe job for a lower wage. From this it can be argued that since safety is costly and if firm invest in green technology and provide a safe work environment to the workers then worker will be working in lesser wages, and depending on the productivity differential it can be worked out whether it is becoming profitable for firm or not. Hence, the claim by environmentalist is partially correct and the holistic understanding is by focusing on wage differential and productivity.
If in a labor market there are only two types of jobs safe jobs and risky jobs then in that case an utility analysis can guide us a worker's decision about which job to chose and which not to. Here the assumption is that all the workers are risk averse and that is how risk of injury from a job becomes a 'bad' good. And worker would require more wage as compensation to take up a risky job over a safe job. Now let the utility function is-

Here u= utility derived by the worker, w = wage rate they earn on the job, r = risk of injury on the job. Now a worker's choice can be depict in a stylized manner from the diagram below.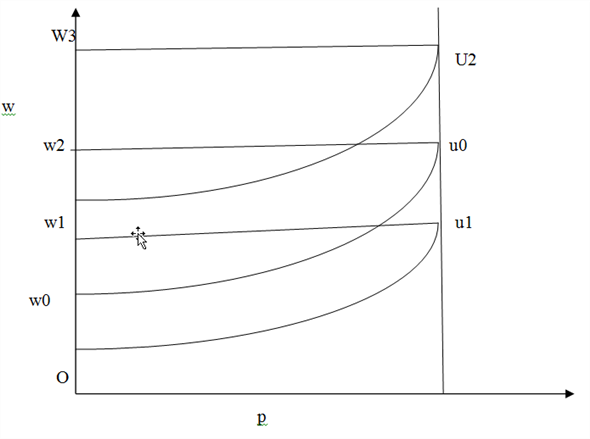 Here in the above diagram in X axis p refers to probability of injury and in the Y axis w refers to wage rate. Suppose initially worker earns a wage of w0 with a corresponding utility level u0. The worker would prefer the safe job is she is offered wage rate of w1. But she would prefer the risky job over the safe job if she gets wage rate w3. And she is indifferent in the wage rate w2. Hence her reservation price is r which is equal to w2-w0. And if she gets anything more than r she will definitely go for a risky job and then she would prefer a risky job over a safe job. This is how a worker would choose between two jobs when only two types of jobs are available- safe and risky.
Q03
Q03
Q03
Consider the demand for and supply of risky jobs. a. Derive the algebra that leads from equations (5-4) and (5-5) to equation (5-6). b. Describe why the supply curve in Figure 5-2 is upward sloping. How does your explanation incorporate Why c. Using a graph similar to Figure 5-2, demonstrate how the number of dirty jobs changes as technological advances allow the cost of making worksites cleaner to fall for all firms.
Unlocked
Essay
a) The necessary algebraic steps are as follows-

Now we know that a profit-maximizing firm will offer a risky environment only if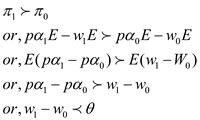 When

=

Then from here, we can get 5-6) i.e. Firm will offer a safe environment if

Firm will offer a risky environment if

…..(5-6). b) The supply curve in the below figure is upward sloping because with the increase in wage gap between safe job and risky job, more and more worker will like to go for risky jobs. Here

refers to the value of productivity gain per additional worker if this exceeds the wage increases firm needs to provide in order to induce worker for risky a risky job otherwise it is profitable for the firm to go for safe job. c) In that case labor demand for this kinds of jobs will rise which can be depicted through the figure below.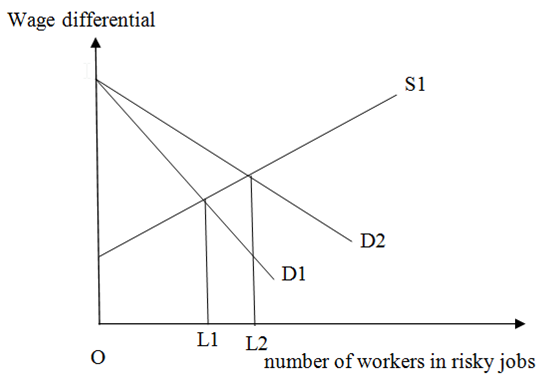 If earlier L1 worker were involved then due to the advancement in technology up to L2 mount of worker can be employed in risky jobs.
Q05
Q05
Q05
Suppose there are 100 workers in the economy in which all workers must choose to work a risky or a safe job. Worker 1's reservation price for accepting the risky job is $1; worker 2's reservation price is $2; and so on. Because of technological reasons, there are only 10 risky jobs. a. What is the equilibrium wage differential between safe and risky jobs Which workers will be employed at the risky firm b. Suppose now that an advertising campaign paid for by the employers who offer risky jobs stresses the excitement associated with "the thrill of injury," and this campaign changes the attitudes of the workforce toward being employed in a risky job. Worker 1 now has a reservation price of -$10 (that is, she is willing to pay $10 for the right to work in the risky job); worker 2's reservation price is -$9; and so on. There are still only 10 risky jobs. What is the new equilibrium wage differential
Unlocked
Essay
Q07
Q07
Q07
Suppose all workers have the same preferences represented by where w is the wage and x is the proportion of the firm's air that is composed of toxic pollutants. There are only two types of jobs in the economy: a clean job ( x = 0) and a dirty job ( x = 1). Let w 0 be the wage paid by the clean job and w 1 be the wage paid for doing the dirty job. If the clean job pays $16 per hour, what is the wage in dirty jobs What is the compensating wage differential
Unlocked
Essay
Q09
Q09
Q09
Suppose a drop in the compensating wage differential between risky jobs and safe jobs has been observed. Two explanations have been put forward: • Engineering advances have made it less costly to create a safe working environment. • The phenomenal success of a new reality show Die on the Job! has imbued millions of viewers with a romantic perception of work-related fatal risks. Using supply and demand diagrams, show how each of the two developments can explain the drop in the compensating wage differential. Can information on the number of workers employed in the risky occupation help determine which explanation is more plausible
Unlocked
Essay
Q11
Q11
Q11
Consider a competitive economy that has four different jobs that vary by their wage and risk level. The table below describes each of the four jobs. All workers are equally productive, but workers vary in their preferences. Consider a worker who values his wage and the risk level according to the following utility function: Where does the worker choose to work Suppose the government regulated the workplace and required all jobs to have a risk factor of 1/5 (that is, all jobs must become A jobs). What wage would the worker now need to earn in the A job to be equally happy following the regulation
Unlocked
Essay
Q13
Q13
Q13
Consider Table 5-1 and compare the fatality rate of workers in the mining, construction, manufacturing, and financial industries. a. What would the distribution of wages look like across these four industries given the compensating differential they might have to pay to compensate workers for risk b. Now look at average hourly earnings in 2006 by industry as reported in Table 614 of the 2008 U.S. Statistical Abstract. Does the actual distribution of wages reinforce your answer to part (a) If not, what else might enter the determination of median weekly earnings
Unlocked
Essay
Q15
Q15
Q15
The Environmental Protection Agency (EPA) wants to investigate the value workers place on being able to work in "clean" mines over "dirty" mines. The EPA conducts a study and finds the average annual wage in clean mines to be $42,250 and the average annual wage in dirty mines to be $47,250. a. According to the EPA, how much does the average worker value working in a clean mine b. Suppose the EPA could mandate that all dirty mines become clean mines and that all workers who were in a dirty mine must therefore accept a $5,000 pay decrease. Are these workers helped by the intervention, hurt by the intervention, or indifferent to the intervention
Unlocked
Essay
Q17
Q17
Q17
There are two types of farming tractors on the market, the FT250 and the FT500. The only difference between the two is that the FT250 is more prone to accidents than the FT500. Over their lifetime, 1 in 10 FT250s is expected to result in an accident, as compared to 1 in 25 FT500s. Further, 1 in 1,000 FT250s is expected to result in a fatal accident, as compared to only 1 in 5,000 FT500s. The FT250 sells for $125,000 while the FT500 sells for $137,000. At these prices, 2,000 of each model are purchased each year. What is the statistical value farmers place on avoiding a tractor accident What is the value of a statistical life of a farmer
Unlocked
Essay
Q18
Q18
Q18
Consider the labor market for public school teachers. Teachers have preferences over their job characteristics and amenities. a. One would reasonably expect that high-crime school districts pay higher wages than low-crime school districts. But the data consistently reveal that high-crime school districts pay lower wages than low-crime school districts. Why ( Hint: In many cities the primary source of funding for teacher salaries is local property taxes.) b. Does your discussion suggest anything about the relation between teacher salaries and school quality
Unlocked
Essay
Q19
Q19
Q19
a. On a graph with the probability of injury on the x-axis and the wage level on the y-axis plot two indifference curves, labeled U A and U B , so that the person associated with U A is less willing to take on risk relative to the person associated with U B. Explain what it is about the indifference curves that reveals person A is less willing to take on risk relative to person B. b. Consider a third person who doesn't care about the risk associated with the job. That is, he doesn't seek to limit risk or to expose himself to risk. On a new graph, draw several of this person's indifference curves. Include an arrow on the graph showing which direction is associated with higher levels of utility. c. Consider a wage-risk equilibrium that is characterized by an upward-sloping hedonic wage function. Now suppose there is a government campaign that successfully alters people's perception of risk. In particular, each worker adjusts her preferences so that she now needs to be more highly compensated to take on risk. Discuss, and show on a single graph, how the government's campaign affects indifference curves, isoprofit lines, the equilibrium hedonic wage function, and the distribution of workers to firms.
Unlocked
Not Answered
There is no answer for this question
Q20
Q20
Q20
Suppose a firm must employ 20 workers in order to produce 2,000 units of output that the firm has contracted to supply to the government for $1.4 million. The firm must choose how much to invest in safety. The firm can choose any level of safety, S, from 0 to 100. The cost of safety is C ( S ) = 50 S 2. Given the firm's choice of safety, the annual salary paid to workers is determined by Annual salary = 60,000 - 300 S Thus, a firm that chooses S = 30 pays $45,000 for this level of safety and pays each worker $51,000. What level of safety will the firm choose, and how much does this cost How much will each worker earn How much profit will the firm earn
Unlocked
Essay
Q21
Q21
Q21
Consider two identical jobs, but some jobs are located in Ashton while others are located in Benton. Everyone prefers working in Ashton, but the degree of this preference varies across people. In particular, the preference (or reservation price) is distributed uniformly from $0 to $5. Thus, if the Benton wage is $2 more than the Ashton wage, then 40 percent (or two-fifths) of the worker population will choose to work in Benton. Labor supply is perfectly inelastic, but firms compete for labor. There are a total of 25,000 workers to be distributed between the two cities. Demand for labor in both locations is described by the following inverse labor demand functions: Ashton: w A = 20 - 0.0024 E A Benton: w B = 20 - 0.0004 E B Solve for the labor market equilibrium by finding the number of workers employed in both cities, the wage paid in both cities, and the equilibrium wage differential.
Unlocked
Essay
Q22
Q22
Q22
U.S. Trucking pays its drivers $40,000 per year, while American Trucking pays its drivers $38,000 per year. For both firms, truck drivers average 240,000 miles per year. Truck driving jobs are the same regardless of which firm one works for, except that U.S. Trucking gives each of its trucks a safety inspection every 50,000 miles, while American Trucking gives each of its trucks a safety inspection every 36,000 miles. This difference in safety inspection rates results in a different rate of fatal accidents between the two companies. In particular, one driver for U.S Trucking dies in an accident every 12 million miles while one driver for American Trucking dies in an accident every 15 million miles. What is the value of a trucker's life implied by the compensating differential between the two firms
Unlocked
Essay
Q23
Q23
Q23
The hedonic wage function is the locus of points that illustrates the relationship between the wage that workers get paid and job characteristics. All else equal, the more pollutants miners breathe while working in a mine, the worse off the miners are. However, miners vary in their degree of dislike for breathing in pollutants. Given the current distribution of perfectly competitive firms (that is, mines) and technologies for cleaning up pollutants, a hedonic wage function comes about. Suppose the distribution of mines and technologies remains fixed, but, due to a public relations campaign by the American Cancer Society, all potential miners change their preferences so that they dislike breathing in pollutants even more. a. What will happen to the hedonic wage function after the public relations campaign b. What will happen to where each individual miner locates on the hedonic wage function
Unlocked
Not Answered
There is no answer for this question