PFIN3 Study Set 1
Business
Quiz 10 :


Protecting Your Property Part V
Looking for
Finance Homework Help?
Co-insurance provided in property insurance contract specifies a percentage of coverage on the property. It is the limit up to which the insurance company reimburses the losses and the property owner becomes the co-insurer for the amount above the policy limits. In the given case, Mrs. MB should go for 90% co-insurance coverage rather than 80% of the policy coverage of $150,000 for her house. The reason being that by option for 90% the policy limit would be $135,000 (90% of $150,000) instead of $120,000 (80% of $ 150,000). The policy limit and insurance coverage would therefore be higher at 90% and the amount to be borne by Mrs. MB would only be $15,000

rather than for 80% co-insurance for which it would be $30,000

.
Q02
Q02
Q02
Last year, Paul and Joanna Stillman bought a home with a dwelling replacement value of $250,000 and insured it (via an HO-5 policy) for $210,000. The policy reimburses for actual cash value and has a $500 deductible, standard limits for coverage C items, and no scheduled property. Recently, burglars broke into the house and stole a two-year-old television set with a current replacement value of $600 and an estimated useful life of eight years. They also took jewelry valued at $1,850 and silver flatware valued at $3,000. a. If the Stillmans's policy has an 80 percent co-insurance clause, do they have enough insurance? b. Assuming a 50 percent coverage C limit, calculate how much the Stillmans would receive if they filed a claim for the stolen items. c. What advice would you give the Stillmans about their homeowner's coverage?
Unlocked
Essay
a. The policy has an 80% co-insurance clause which equals to $ 200,000 (80% of $ 250,000) and the insured amount of $ 210,000 is higher than the above. Hence the insurance cover is sufficient. b. A Total of 50% coverage is available for C. Hence, Mr. S can claim up to $105,000 (50% of $ 210,000) for the stolen items. The actual amount that can be claimed is as follows-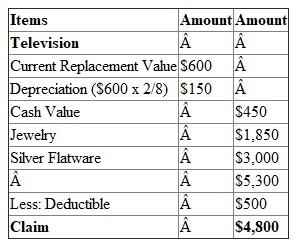 c. Mr. S should decrease the insurance coverage from $ 210,000 to $ 200,000 as the co-insurance clause requires 80% share. This would allow him to reduce the premium payable on the insurance.
Q03
Q03
Q03
Fred and Sasha Seidel, both graduate students, moved into an apartment near the university. Sasha wants to buy renter's insurance, but Fred thinks they don't need it because their furniture isn't worth much. Sasha points out that, among other things, they have some expensive computer and stereo equipment. To help the Seidels resolve their dilemma, suggest a plan for deciding how much insurance to buy, and give them some ideas for finding a policy.
Unlocked
Essay
F is of the view that they should not take renter's insurance whereas S is of the view that some expensive items such as computers and stereo equipment's should be covered. In such case, it is advisable for them not to go for the renter's insurance and rather take up a personal Scheduled Property Floater Insurance. This insurance lists the items covered in its schedule and provides coverage for expensive items. This would allow the coverage of the expensive items with low premium payments.
Q04
Q04
Q04
Sarah Kavenna's luxurious home in in Washington, D.C., was recently gutted in a fire. Her living and dining rooms were completely destroyed, and the damaged personal property had a replacement value of $27,000. The average age of the damaged personal property was 5 years, and its useful life was estimated to be 15 years. What is the maximum amount the insurance company would pay Sarah, assuming that it reimburses losses on an actual cash-value basis?
Unlocked
Essay
Q05
Q05
Q05
David Salter has a personal automobile policy (PAP) with coverage of $25,000/$50,000 for bodily injury liability, $25,000 for property damage liability, $5,000 for medical payments, and a $500 deductible for collision insurance. How much will his insurance cover in each of the following situations? Will he have any out-of-pocket costs? a. David loses control and skids on ice, running into a parked car and causing $3,785 damage to the unoccupied vehicle and $2,350 damage to his own car. b. David runs a stop sign and causes a serious auto accident, badly injuring two people. The injured parties win lawsuits against him for $30,000 each. c. David's 18-year-old son borrows his car. He backs into a telephone pole and causes $450 damage to the car.
Unlocked
Essay