Personal Financial Planning Study Set 5
Business
Quiz 9 :


Insuring Your Health
Looking for
Finance Homework Help?
Q01
Q01
Q01
Health care costs have increased dramatically in recent years, and many insurance providers have reduced their coverage, leaving the individual to foot more of the bill. In this project, you'll examine your health insurance needs and determine the coverage that's appropriate for you. First, make a list of the possible health care needs you're likely to have during the year. Be sure to include the potential accident risks to which you're typically exposed in pursuit of your lifestyle activities. Then, if you currently have health insurance, make a list of the coverage it provides, including deductibles, co-insurance amounts, prescription coverage, policy limits and exclusions, and so forth. Is your coverage adequate in light of your needs Are there ways you can reduce your costs If you don't currently have health insurance, research possible providers. Can you obtain insurance through your university, place of employment, or through an organization to which you belong Do you qualify for insurance that may be provided by your state Consider all of your feasible alternatives, the coverages that would be provided, and the cost of each.
Unlocked
Not Answered
There is no answer for this question
The price of medical treatment has risen dramatically in the recent years. A serious illness or accident may cause physical pain from sickness and injury and also economic hurt. The intent for including health insurance in personal financial plan is, health insurance financially assists to pay the expenses of routine and major medical care so, that it does not seriously affect the plans and financial accomplishments. If it is not included in personal financial plan many people remain uninsured or underinsured. Fee-for-service procedure is also sometimes called indemnity plans. In these types of plans, the insurance companies forfeit fees for the services provided. Health insurance is insurance in opposition to the risk of incurring medical day-by-day expenditure among persons. By estimating the general risk of health care and health system operating expenditure among a targeted collection, an insurer can build up a routine finance formation. When you have physical circumstance insurance, the premium costs you are paying will be a part of the total premium in a big plan. Even you can get your medical treatments anywhere you wish without getting any suggestion or earlier approvals. Health insurance is a very important part of good financial planning protection is the outmost important aspect of individual finance. The improvement is administered by a central association such as a government agency, private business, or not-for-profit entity.
Q03
Q03
Q03
Zach Carey was a self-employed window washer earning approximately $700 per week. One day, while cleaning windows on the eighth floor of the Second National Bank Building, he tripped and fell from the scaffolding to the pavement below. He sustained severe multiple injuries but miraculously survived the accident. He was immediately rushed to the local hospital for surgery. He remained there for 60 days of treatment, after which he was allowed to go home for further recuperation. During his hospital stay, he incurred the following expenses: surgeon, $2,500; physician, $1,000; hospital bill for room and board, $250 per day; nursing services, $1,200; anesthetics, $600; wheelchair rental, $100; ambulance, $150; and drugs, $350. Zach has a major medical policy with Medical Benefits Corporation that has a $3,000 deductible clause, an 80 percent co-insurance clause, internal limits of $180 per day on hospital room and board, and $1,500 as a maximum surgical fee. The policy provides no disability income benefits. Critical Thinking Questions 1. Explain the policy provisions as they relate to deductibles, co-insurance, and internal limits. 2. How much should Zach recover from the insurance company How much must he pay out of his own pocket 3. Would any other policies have offered Zach additional protection What about his inability to work while recovering from his injury 4. Based on the information presented, how would you assess Zach's health care insurance coverage Explain.
Unlocked
Essay
Person ZC is self-employed , and was recently injured in a fall while working. He needed surgery and was hospitalized for several months. Person ZC does have an insurance policy through MB Corporation but was responsible for a portion of the bills. 1. Following are explanations of several terms used in the policy provisions : • Deductibles : A deductible represents an initial amount of medical expenses that are not covered by the insurance policy. In Person ZC's case, it means that he is responsible for the first $3,000 of eligible expenses for his accident. • Co - insurance : This is an insurance provision that states that the policyholder is responsible for a portion (usually expressed as a percentage) of the covered expenses that are in excess of the deductible. For Person ZC, he is responsible for 80% of the covered losses after his deductible is reached. • Internal limits : An insurance provision that limits the amounts that are covered for certain medical expenses, even if the claim is not in excess of the overall policy limits. Person ZC's policy will only cover $180/day for hospital room and board, and a maximum of $1,500 for surgical fees. 2. To determine how much Person ZC should recover from the insurance company and the amount of out-of-pocket expenses he is responsible for , we can use a table to list the expense items and their amounts: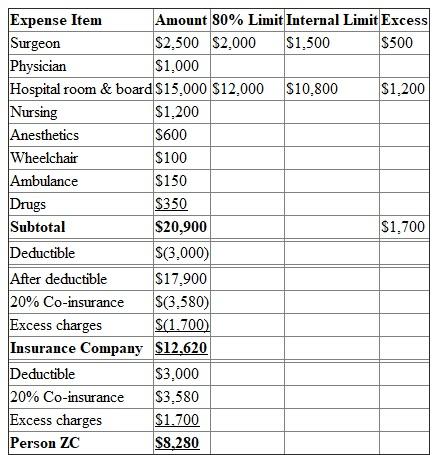 From the above table, we can observe that Person ZC should recover a total of $12,620 from the insurance company. This is after the deductible, co-insurance, and excess charges are deducted from the expense sub-total. Person ZC will need to pay for the deductible, co-insurance, and excess charges out-of-pocket - a total of $8,280. 3. There are a number of policy provisions that would have provided Person ZC with additional protection , including policies with no (or smaller) deductibles; no (or a smaller percentage) co-insurance, and no (or higher) internal limits. These three provisions included in his policy make up the $8,280 that Person ZC is responsible for out-of-pocket. However, policies with these kinds of provisions will also have higher premiums. Because he is self-employed, Person ZC is solely responsible for the cost of his health insurance, unlike others who have portions of their coverage paid for by their employers. In addition, Person ZC should definitely consider purchasing a disability insurance policy. He was unable to work while recovering from his accident, which means that he did not earn any income during this time. Disability insurance would give him regular payments to tide him over while he recovers. 4. Based on the information presented, it does not seem as if Person ZC's health insurance coverage is adequate. The total expenses for his accident totaled $20,900 and he was responsible for $8,280 of that amount - roughly 40%. Person ZC should further analyze the cost/benefit of paying higher premiums for health insurance with provisions that equal less out-of-pocket expenses. In addition, as noted above Person ZC has no individual disability insurance beyond Social Security (which do not begin until a worker is totally disable for five months). Because he is self-employed, disability insurance coverage is imperative so that he can keep earning an income if he becomes hurt and unable to work.
Q04
Q04
Q04
Ken and Maureen Blake have two children, with ages of 6 years and 5 months. Their younger child, Don, was born with a congenital heart defect that will require several major surgeries in the next few years to correct fully. Ken is employed as a salesperson for a major pharmaceutical firm, and Maureen is a stay-at-home mother. Ken's employer offers employees a choice between two health benefit plans: • An indemnity plan that allows the Blakes to choose health services from a wide range of doctors and hospitals. The plan pays 80 percent of all medical costs, and the Blakes are responsible for the other 20 percent. There's a deductible of $500 per person. Ken's employer will pay 100 percent of the cost of this plan for Ken, but the Blakes will be responsible for paying $380 a month to cover Maureen and the children under this plan. • A group HMO. If the Blakes choose this plan, the company still pays 100 percent of the plan's cost for Ken, but insurance for Maureen and the children will cost $295 a month. They'll also have to make a $20 co-payment for any doctor's office visits and prescription drugs. They will be restricted to using the HMO's doctors and hospital for medical services. Which plan would you recommend that the Blakes choose Why What other health coverage options should the Blakes consider
Unlocked
Essay
Q06
Q06
Q06
Roberto Gomez and his wife, Juanita, have been married for two years and have a 1-year-old son. They live in Chicago, where Roberto works for Engineering Designers. He earns $3,200 per month, of which he takes home $2,300. As an employee of Engineering Designers, he and his family are entitled to receive the benefits provided by the company's group health insurance policy. In addition to major medical coverage, the policy provides a monthly disability income benefit amounting to 20 percent of the employee's average monthly take-home pay for the most recent 12 months prior to incurring the disability. ( Note: Roberto's average monthly take-home pay for the most recent year is equal to his current monthly take-home pay.) In case of complete disability, Roberto would also be eligible for Social Security payments of $700 per month. Juanita is also employed. She earns $700 per month after taxes by working part-time at a nearby grocery store. As a part-time employee, the store gives her no benefits. Should Roberto become disabled, Juanita would continue to work at her part-time job. If she became disabled, Social Security would provide monthly income of $400. Roberto and Juanita spend 90 percent of their combined take-home pay to meet their bills and provide for a variety of necessary items. They use the remaining 10 percent to fulfill their entertainment and savings goals. Critical Thinking Questions 1. How much, if any, additional disability income insurance does Roberto require to ensure adequate protection against his becoming completely disabled Use Worksheet 9.2 to assess his needs. 2. Does Juanita need any disability income coverage Explain. 3. What specific recommendations regarding disability income insurance would you give Roberto and Juanita to provide adequate protection for themselves and their child (Reference Worksheet 9.2)
Unlocked
Essay
Q07
Q07
Q07
David Chen was seriously injured in a snowboarding accident that broke both his legs and an arm. His medical expenses included five days of hospitalization at $900 a day, $6,200 in surgical fees, $4,300 in physician's fees (including time in the hospital and eight follow-up office visits), $520 in prescription medications, and $2,100 for physical therapy treatments. All of these charges fall within customary and reasonable payment amounts. a. If David had an indemnity plan that pays 80 percent of his charges with a $500 deductible and a $5,000 stop-loss provision, how much would he have to pay out of pocket b. What would David's out-of-pocket expenses be if he belonged to an HMO with a $20 co-pay for office visits c. Monthly premiums are $155 for the indemnity plan and $250 for the HMO. If he had no other medical expenses this year, which plan would have provided more cost-effective coverage for David What other factors should be considered when deciding between the two plans
Unlocked
Essay
Q09
Q09
Q09
Use Worksheet 9.1. Emily Walsh, a recent college graduate, has decided to accept a job offer from a non-profit organization. She'll earn $34,000 a year but will receive no employee health benefits. Emily estimates that her monthly living expenses will be about $2,000 a month, including rent, food, transportation, and clothing. She has no health problems and expects to remain in good health in the near future. Using the Internet or other resources, gather information about three health insurance policies that Emily could purchase on her own. Include at least one HMO. Use Worksheet 9.1 to compare the policies' features. Should Emily buy health insurance Why or why not Assuming that she does decide to purchase health insurance, which of the three policies would you recommend, and why
Unlocked
Not Answered
There is no answer for this question
Q13
Q13
Q13
Use Worksheet 9.2. Bruce Kaplan, a 35-year-old computer programmer, earns $72,000 a year. His monthly take-home pay is $3,750. His wife, Barbara, works part-time at their children's elementary school but receives no benefits. Under state law, Barbara's employer contributes to a workers' compensation insurance fund that would provide $2,250 per month for six months if Bruce were disabled and unable to work. a. Use Worksheet 9.2 to calculate Bruce's disability insurance needs, assuming that he won't qualify for Medicare under his Social Security benefits. b. Based on your answer in part a , what would you advise Bruce about his need for additional disability income insurance Discuss the type and size of disability income insurance coverage he should consider, including possible provisions he might want to include. What other factors should he take into account if he decides to purchase a policy REFERENCE:
Unlocked
Essay
Q17
Q17
Q17
Assess your current health insurance situation. Do you have any health insurance now What does your policy cover What is excluded Are there any gaps that you think need to be filled Are there any risks in your current lifestyle or situation that might make additional coverage necessary If you were to purchase health insurance for yourself in the near future, what type of plan would you select, and why What steps can you take to keep your health costs down
Unlocked
Essay