Real Estate Principles Study Set 1
Business
Quiz 6 :


Forecasting Ownership Benefits and Value
Looking for
Insurance Homework Help?
We know that we need to find the distribution of reported house value for owner-occupied residences from the latest American Community Survey located at the U.S. Census Bureau website www.census.com. The following data represented in Table 1 shows the required information which is specific to Orange County, Florida: Table 1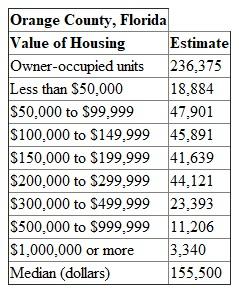 Source: http://factfinder2.census.gov/faces/tableservices/jsf/pages/productview.xhtml pid=ACS_11_1YR_DP04 prodType=table
The features required of a residence depend heavily upon the income level of the target market which includes the size of the yard or dwelling or the mix of rooms. There are differences between the life styles of the wealthy, the poor, and the single person vs working couples, and families with children vs retired household. Therefore the correct answer is (d) Household unemployment status
There are many non-locational requirements that you might consider when selecting an apartment: size, pets allowed, adequate parking, age and condition of complex, security and safety, number of bedrooms, number of bathrooms, kitchen size and layout, view, noise, swimming pool, rental rate, security deposit required, etc. Six of the non-locational requirements listed above that you would most likely consider important are: "Rental rate, size of apartment, number of bedrooms, number of bathrooms, adequate parking, age and condition of complex".
Q05
Q05
Q05
Select a site in your city that is in a mixed-use or nonresidential area, and either is vacant or appears to be ready for change (e.g., structure partially used or vacant, or in need of refurbishing). Go to the site during the morning commuting period of a business day. Situate yourself at or near the site and observe the activity at and around the site. Pay particular attention to why people pass the site-where they are coming from and where they are going. Note any nearby land uses or pedestrian flows that could potentially involve the site. Then explore the area around the site for a block or so in each direction, and record on a simple map the main patterns of traffic flow and the broad variations in land uses. Finally, after at least one observation session of 30 minutes, record your main impressions and thoughts concerning the potential use of the site. ( Hint: A good way to select a site might be to go to a commercial real estate/broker or appraiser and ask him or her about a site this professional finds intriguing. This will give you an interesting industry contact, and another perspective on the problem.)
Unlocked
Essay
Q07
Q07
Q07
Select a property of interest to you or to an industry contact, and one for which market research would be interesting. Examine the property and collect available information about it. Then write a market-defining story for the property using the questions from the chapter as a guide.
Unlocked
Essay
Q09
Q09
Q09
University City is a town of more than 200,000 persons, with over 50,000 university and community college students. It has over 30,000 apartment units which, with one or two exceptions, are garden apartments with a maximum of three floors. Except for buildings within or immediately adjacent to the university medical center, the football stadium, and two graduate student dorms, only two other buildings in University City exceed five floors. A developer proposes to introduce two 24-story apartment buildings halfway between the downtown and the university, which are about 1.5 miles apart. One tower would be targeted to undergraduate students and the other to graduate students. The downtown consists of little more than government offices, mostly local and county. What questions should the developer ask in order to create a "market-defining story" for the twin towers
Unlocked
Essay