Biochemistry Study Set 13
Biology
Looking for
Biotechnology Homework Help?
The prokaryotes are the organisms which lack the membrane bound cell organelles and well defined nucleus. They carry out protein synthesis indirectly using their genetic material. In eukaryotes, the direct control of protein synthesis is in the hands of ribosome (protein factory). Since, the prokaryotes lack the same organelle (ribosomes) thus they cannot have direct control of protein synthesis.
The cytidine molecule has the following structure from the after the removal of ammonia the structure formed is also mentioned below: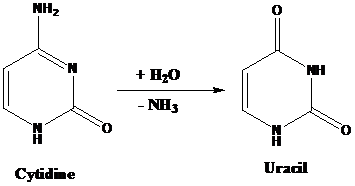 Thus, the molecule that will be formed after the removal of ammonia from the cytidine molecule is uracil. Since it is base of RNA (ribonucleic acid) it is then used for the synthesis of RNA molecule through transcription.
The Okazaki fragments are those which are formed at the lagging strand of the DNA (deoxyribonucleic acid) during transcription. These fragments can be joined to form a new strand. This happens with the help of enzyme ligase which attaches the fragments first with a phosphate group. The reaction occurs as follows, and the enzyme intermediate is given below.