Ecology
Geology/Geography/Oceanography/Atmospheric Sciences
Quiz 16 :


Species Abundance and Diversity
Looking for
Introductory Geography Homework Help?
The communities and population are important parts of an ecosystem. The basic differences between community and population are as follows:

Some of the distinguishing properties of a community are as follows: • Structure : The structure of a community is determined by the number of species, their relative abundance, and the diversity of species in it. • Interactions : The members of a community may interact to have potential out puts. The interactions are as follows: 1. Mutualism 2. Commensalism 3. Competition 4. Predation 5. Parasitism • Factors affecting community : The factors that influence the structure and composition of a community are abiotic and biotic factors of an environment. The abiotic factors may be temperature, humidity, air, pH etc. The biotic factors may include the members of the community and environment. A guild can be defined as a group of organisms that make their living in a common way. The study of guilds helps the ecologist to have a clear view of the animals in a community. Some examples of guild are as follows: • Insects in a community that feed on flowers. • Insects in area that feed on seeds. • Animals in an area that feed on herbs. A plant life form is a term assigned to a combination of the structure and growth dynamics assigned to any plant. Plant life forms enable the ecologist to get a better view of the plants in any community. Some examples of life forms are as follows: • Trees • Grasses • Annual plants
There is a wide variety of living beings present in any community. Many such communities combine to form the ecosystems that comprise of the nature on earth. This proves that in order to sample the species present in any substantial habitat on earth, the ecologists would have to take a list of the variety and number of each organism. This may include very small organisms like fungi to largest like whales or elephants. The major requirements for such an exercise may be: • Expertise man power. • Millions of scientist hours to perform the study. • Standardized sampling methodologies. • Extensive efforts in sampling. • Provision to conduct study of wide range from underground soil to tree canopies. All these requirements may be increased as per the increase in species number in any area. Hence, it becomes impossible to give a complete list of species that must comprise of all types of organisms in any substantial area on earth. It has been practically impossible to make such a precise listing. Hence, a complete list of species has not been determined of a substantial habitat anywhere on earth.
A lognormal graph shows a relative abundance of species in any area. In order to construct a lognormal graph, let us consider a hypothetical sample of any area. The population consist of ants in a given area. The observations are as follows: • Number of species of ants observed: 208 • Number of individuals studied: 4,058 On base of the above sampling, a typical lognormal distribution can be constructed as follows: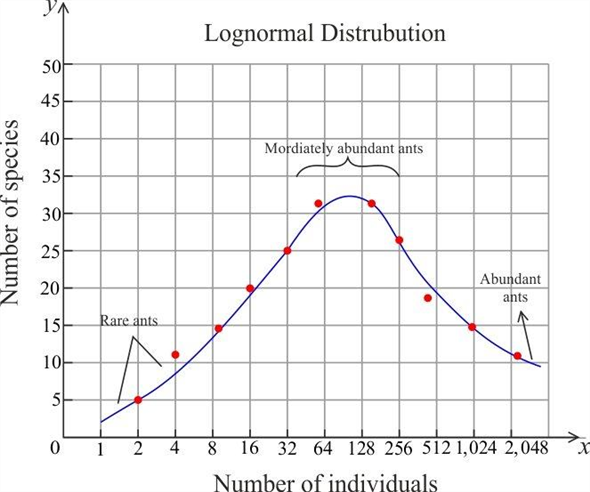 The x axis is labelled as the number of individuals and y axis is labelled as number of species. The graph has a bell shape that is characteristic feature of a "typical" lognormal distribution. It can be also seen that the moderately abundant ants were of 30 different species (approximately). It also denotes some species were very high and some were very low in abundance.
Q05
Q05
Q05
Suppose you are a biologist working for an international conservation organization concerned with studying and conserving biological diversity. On one of your assignments you are sent out to explore the local biotas of several regions. As part of your survey work you are to take large quantitative samples of the copepods of the North Atlantic, the butterflies of central New Guinea, and the ground-dwelling beetles of southwest Africa. Using the lognormal distribution, predict the patterns of relative abundance of species you expect to see within each of these groups of organisms.
Unlocked
Essay
Q07
Q07
Q07
Compare the "trophic" niches of warblers and diatoms as described by MacArthur (1958) and Tilman (1977). Why is it important that the ecologist be familiar with the niches of study organisms before exploring relationships between environmental complexity and species diversity?
Unlocked
Essay
Q08
Q08
Q08
Communities in different areas may be organized in different ways. For instance, C. Ralph (1985) found that in Patagonia in Argentina, as foliage height diversity increases, bird species diversity decreases. This result is exactly the opposite of the pattern observed by MacArthur (1958) and others reviewed in chapter 16. Design a study aimed at determining the environmental factors determining variation in bird species diversity across Ralph's Patagonian study sites.
Unlocked
Essay
Q10
Q10
Q10
The dams that have been built on many rivers often stabilize river flow by increasing flows below the dam during droughts and decreasing the amount of flooding during periods of high rainfall. Explain how these stabilized flows can be considered as a "disturbance." Using the intermediate disturbance hypothesis, predict how stabilized flows would affect the diversity of river organisms below reservoirs.
Unlocked
Essay
Q11
Q11
Q11
Humans have been living in the tropical rain forests of the New World for at least 11,000 years. During this period, disturbance by humans has been a part of these tropical rain forests. Use the intermediate disturbance hypothesis to explain how recent disturbances threaten the biological diversity of these forests, while earlier disturbances apparently did not.
Unlocked
Essay